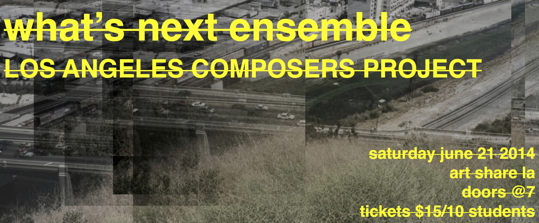 The LA Composers Project has taken a sabbatical year. Stay tuned for a very exciting announcement regarding the future of What's Next? and its commitment to modern music!
Los Angeles Composers Project 2014
June 21st, doors @ 7 pm, music @ 8 pm
What's Next? continues its unprecedented commitment to music written by composers living and working in great Los Angles. For the sixth year in a row, What's Next? presents the best of modern LA's music. Since the beginning of this series, the works of 60 LA composers have been performed. It's a track record like no other.
Donate today!
You can make a tax deductible donation to the Los Angeles Composer's Project through our fiscal sponsor, the Pasadena Arts Council. Your donation of any amount will go a long way to ensuring the success of the 2014 festival.

Compendium of Composers
Over the five year history of the Los Angeles Composers Project, What's Next? has performed and championed the works of 50 Los Angeles based composers. It's a track record like no other. Those composers are: